About PKF Malaysia
PKF Malaysia is a member of PKF International, a global network of legally independent firms bound together by a shared commitment to quality, integrity and the creation of clarity in a complex regulatory environment. With offices in 440 cities, we are present in 150 countries across 5 continents and specialises in providing high quality audit, accounting, tax, and business advisory services to international and domestic organisations in all our markets.
PKF Malaysia is helmed by a team of vibrant and dynamic service-oriented individuals who have had in-depth experience in international and local accounting, audit, and taxation practices, and practical exposure in fields of consulting, management, and business operations. With our established reputation for local knowledge and attention to detail, combined with our global reach across Europe, Asia Pacific, the Middle East, the Far East, the Americas, and the Caribbean, we are equipped to serve your business and corporate needs.
Our Values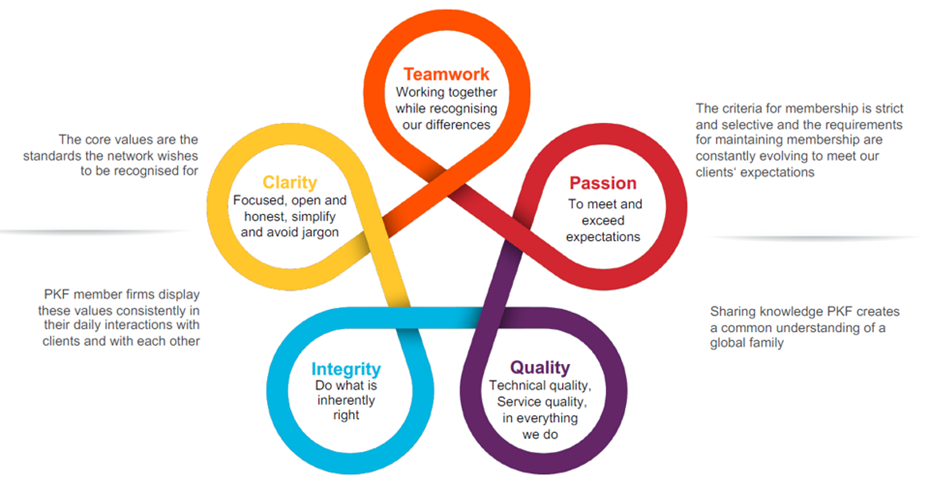 2020-12-09
PKF e-Tax News - Non-Compliance with Transfer Pricing Rules - A Hefty Price to Pay?
Read more
All News
Latest News
2020-11-07
Budget 2021 Hightlights
The Malaysia's Budget 2021 was presented by our Finance Minister themed "Stand United, We Shall Prevail".
Read more
2020-09-04
Additional condition for Small and Medium Enterprise to enjoy preferential tax rate
A new condition was introduced with effect from year of assessment (YA) 2020 for a company to be categorised as
Small and Medium Enterprise (SME) in order to enjoy certain preferential tax treatments under the Income Tax Act
(ITA), 1967.
Read more